From our base in LA right across the USA
Hire managed internet with advanced tech 
for your business, event or live stream. 

24/7 phone support, multiple bonded LTE carriers and seamless failover.
Check out the ways our clients are winning:
When it's all about connection, we're here to help you educate, entertain and inspire no matter where you are.
We hear we're delivering on our promise of speed, reliability and live support across the USA.
And we work with large brands and small brands. From San Francisco to Brooklyn and everywhere in between, we've got you.
If you'd like a quote or more information, get in touch, we'd love to hear from you.
Our modular units can be tailored to just about every sort of event you can think of...
Reliable internet is essential to your corporate event's success. Our conference and exhibition clients trust us to support critical functions like delegate registrations and access, check-in kiosks, scanning tickets, cashless transactions, running event apps, and providing priority presenter internet.
Get the most ROI on your temporary internet by turning it into a lean, but not-so-mean marketing machine. Give your guests the warm fuzzies, build brand awareness, capture data and use retargeting to turn your Wifi into an integrated marketing experience that keeps working long after your event is over.
The core of a good gig is the vibe, and it's great internet that keeps that vibe flowing. Festival Directors rely on PopUp WiFi to make sure their people have the best experience, from live streaming and back-of-house operations to cashless payments, VIP and artist internet, and branded public WiFi.
Or dive into our blog with more WiFi hints, tips and how-tos than you can poke a high-gain antenna at.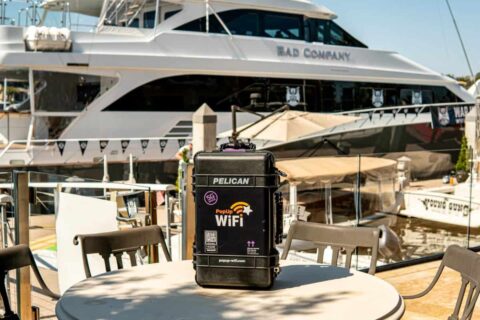 Murphy's Law is always present and active in production life. Staffing issues, location changes, delivery delays (plus the odd pandemic thrown in there for added stress) – things hardly ever go to plan. One thing
Read More »
If your head's buzzing with questions about how our temporary internet service can help boost your next event, check our FAQ section.
Can I use the WiFi to collect customers' email addresses for my database?
Can I lease a PopUp WiFi unit?
How does temporary internet work?
How much data will I need for my WiFi hire?
Or check out the handy product comparison chart our network engineers have created to give you a quick snap shot of all our temporary WiFi products and their features.
Or contact us to get a quote straight from one of our event WiFi experts.